From the book "Volvo P1800-from idea to prototype and production" by Mats Westerman (Eriksson) and Kenneth Collander
According to the original basic specifications, the car was going to be designed in such a way that it would be possible to convert it into a convertible, with a standard soft top and an optional hard top, without any major re-design of the bodywork. Pressed Steel was instructed to design the body for the easy installation of the reinforcement needed for a roofless car. There was an initial request to have such a version ready by the late spring of 1961. Then everything went quiet until the summer of 1961 when the ideas for a convertible sprang to life again when Volvo technical director Tord Lidmalm contacted the sales manager of Pressed Steel, Mr C. Coynes asking for an estimate of the time and money needed for Pressed Steel to develop the necessary tools for the making of a convertible version and when a first car could be ready. Volvo was going to raise the question of whether to build a convertible or not at a board meeting in August 1961 and quickly needed the information.
In October 1961 Pressed Steel delivered all information to Svante Simonsson along with a brochure which described their proposal for this, complemented with an offer.. Volvo's intention was to show the convertible version of the P1800 by April 1962 and start producing a year later, in April 1963. The expected maximum production volume would per 100 bodies per week. Simonsson asked Tor Berthelius to investigate if this was realistic or not. The focus was on the tooling costs and contained modifications of most things from the front wings, door sills, the rear section the windscreen frame and the a-pillars to chassis members, the scuttle and seat mountings.
Considering that everything was at a very early stage, very little was known about the actual market potential of the coupe, and nothing of a convertible version. Therefore Volvo chose a cautious line. Berthelius suggested that a market analysis was going to be carried out in order to be able to conclude whether a convertible was going to be added. It was of vital importance to have Pressed Steel produce a test body in order to carry out material strength and rigidity tests. The next step would the be to ask Pressed Steel for a suggested design of the hood and its frame., either operated by hand or a hydraulic solution. Berthelius said that the additional weight of a convertible would affect the performance of the car. According to Pressed Steel, cost for the tools would reach the sum of 1,5 million Swedish Crowns to which were added the cost for design and engineering of other components, tools, the building of two prototypes plus testing, on both short and long terms. In total, the cost for the project would be two million Crowns.
After Engellau had read the report from Berthelius, he decided that it would be too expensive, risky and on the whole very doubtful to pursue this cause which meant that the convertible plans were abandoned. Surely this project was affected in a negative way by all the time and resource consuming work at Pressed Steel that Volvo already had to deal with.
Some years later, a Volvo dealer on Long Island outside New Your, Volvoville started their own limited production of convertible by cutting the roof of the coupe and fitting soft top. Between 1963 and 1967 some 30 cars were made of which a handful still survive. A convertible 1800 was also made in Britain by Harold Radford coach building company
Volvoville

In the early 1960s, the popular MGB was on the market, but Volvo's range still lacked a convertible. Despite several serious considerations, Volvo had chosen to invest only in a coupe version of the P1800. In the mid-1960s, safety considerations also grew stronger and Volvo's strategy did not include a car without a fixed roof. But surely an 1800 would do well as a convertible? So reasoned a man named Stanley B. Lazarus, founder and manager of Volvoville, a Volvo dealer in Amityville on Long Island in New York. During 1963 Lazarus had bought Munn Motors, Ltd a dealer for both M.G, Austin, Jaguar and Volvo. In the previous 10 years, Lazarus had opened Shore Motors which was a dealer for Studebaker in Port Washington as well as a number of car companies that concentrated on used cars, such as ZMotors in Valley Stream. By 1967 Lazarus had formed Volvoville which at the time was one of the fastest growing Volvo dealerships in the country as Newsday magazine noticed in August 1967. It was not only the Volvo 1800S that would undergo transformation thanks to Lazarus' marketing strategies. A later example is the Volvo 760 limousine which also originates from Volvoville
Using the results of what Volvo engineers had already planned at the prototype stage, Stanley Lazarus developed the idea of a roofless version of the sports car and made it a reality. During 1964, Volvoville experimented with the first car. A used red P1800S of the 1963 model year was the first step towards the creation of a classic and desirable 1800S convertible. According to Stanley Lazarus and his son Michael and certified by Irv Gordon, Volvoville is said to have experimented with approximately 15-20 cars. These cars were made up of unsaleable examples that were only used for the experiments, never resold and scrapped afterwards. According to unconfirmed information, the roofs of these cars had been damaged during transport from Europe to the United States. Instead of shipping them back to Sweden, several local workshops were hired to develop convertible variants. These first cars were then photographed and used in brochures and marketing.
Irv Gordon says: "I have heard that Volvoville made 57 convertibles including the 15-20 experimental cars that were later scrapped. Some of these had been involved in accidents or otherwise destroyed. At the time I bought my red 1966, Volvoville had fitted a huge map on the wall with pins marking every place where a convertible had been sold" When a good method was found to convert the cars, carry out body reinforcements and manufacture soft tops, the experiments stopped. Next, the company 'International Auto Painting' was hired to refine the body conversions. All convertibles sold to customers were done by 'International Auto Painting'. With their solid body reinforcement, no problems were experienced with self-opening doors that can be a problem with homemade conversions.
Harold Radford 1800S Convertible

The London-based company Harold Radford Coachbuilders operated in Melton Court in South Kensington, London since the 1940s and were well-known Roll-Royce and Bentley dealers. They developed and niched the business towards specialist estate car builds, mainly Bentley and Rolls-Royce. Many associate the name Radford with their acclaimed work on luxury versions of the Mini brand.
The Needler family in Hull owned a number of businesses in the Yorkshire area and during the 1960s they also owned the city's football team Hull City Football Club. Christopher Needler appreciated the 1800, but was still not satisfied with the coupe version. "I loved the look of the Volvo P1800 and was looking for a convertible but I wanted something other than the MGB that was popular at the time," says Needler. During his search for an 1800, Needler contacted Volvo dealer Remfry Motors on Anlaby Road in Hull and told them he wanted an 1800S convertible. Based on his knowledge of reputable car builders, Remfry's sales representative contacted Harold Radford who was commissioned to carry out the conversion. The conversion from coupe to convertible costed £1000 on top of the purchase price which was £1800 in 1965. A new pearl white 1800S with chassis number 14459 was delivered from Sweden to England on March 26, 1965 and was converted by Radford and completed in late 1965. It was, of course, a much appreciated 21st birthday present from the parents to their son Christoper Needler.
Below a photo of the car during the conversion at Harold Radfords in London. When the work was completed the car was delivered to Remfry Motors for final delivery to Needler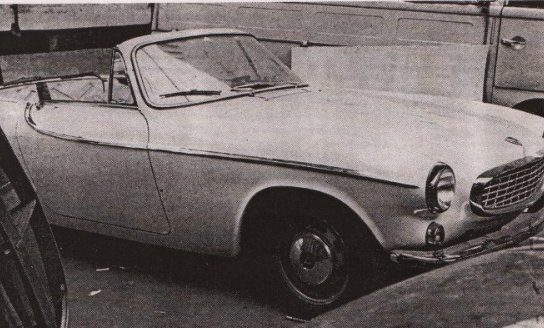 As the car was ordered through a Volvo dealer, the result was as close as you can get to an official Volvo 1800S convertible
Information varies as to how many 1800S were converted by Harold Radford but according to Chris Gow who administers "The Radford register" a single 1800S was converted". A further conversion is said to have been ordered, but apparently never built as Harold Radford ran into financial problems in mid-1966. This is also confirmed by Christopher Needler "Yes there was definitely only one conversion done. I have to admit I'm surprised because in my opinion it was a car that suited exceptionally well as a convertible. Perhaps the reason was the extensive reinforcement of the body that was needed, which entailed high costs."
According to other information from Gordon Hunter and Mike Gilbert, however, Harold Radford is said to have made four conversions on behalf of an English Volvo dealer. All four are said to have been white cars of the 1965/66 model year. Rumor has it that two of them were destroyed by fire, but this has not been confirmed.
---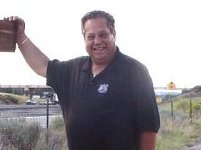 ---